Facebook
Please note that currently, it can take up to 3 minutes for your live stream to appear on your website.
You must be an admin user of your Facebook page in order to complete the integration of WP Livestream with your page.
Find your Page ID
Click the "Click here to find your page id" link in the WP Livestream Facebook settings to use the tool right from your dashboard to find your Facebook ID.
Copy the ID.
Enter your Page ID
In your WordPress admin, go to Settings -> WP Livestream
Click on the Facebook Settings tab.
Paste the Page ID you just copied into the Your Facebook Page ID field and click Save Changes.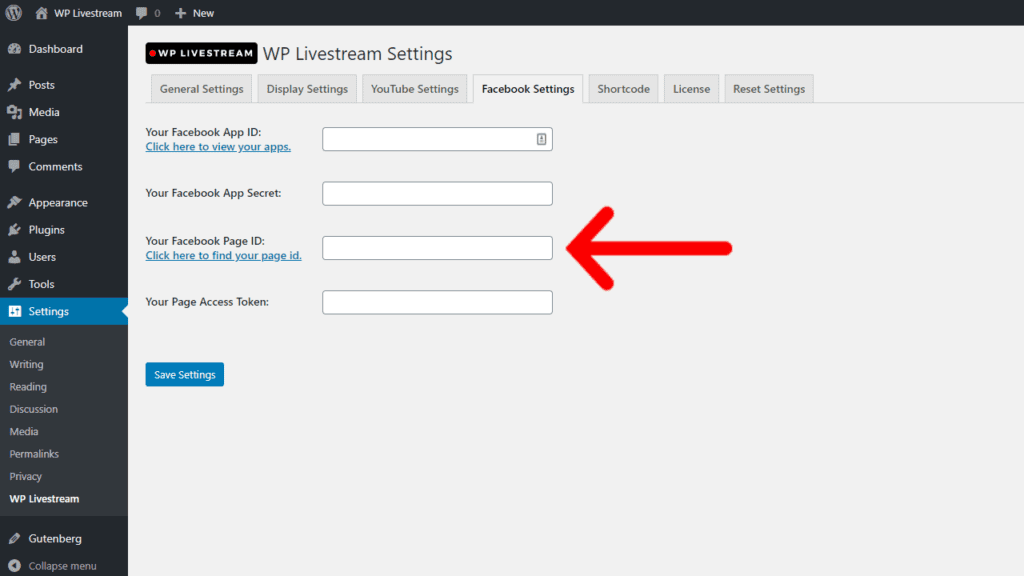 Authorize the WP Livestream Facebook App
Click the "Connect to Facebook" button in the WP Livestream plugin Facebook settings.
Click the blue "Continue" button in the Facebook dialog
Select the Facebook Page from which you'd like to embed live streams automatically.
Click the blue "Next" button.
Click the blue "Done" button.
Click the blue "OK" button.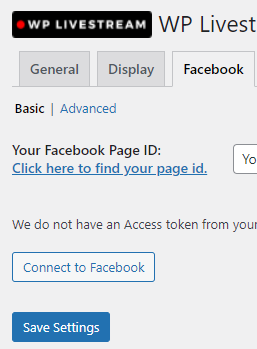 Now you're all set!
If you are having any issues, please contact support.
---
Troubleshooting Common Issues
Basic checklist
Here are a couple of initial things to check if your livestream is not being picked up by WP Livestream:
Are you streaming to Facebook Page or personal profile? Currently, only Pages are supported.
Make sure the FB page you are trying to stream from is "public".
Make sure the FB page you are trying to stream from is not limited to any age or country (The restriction settings for Country and Age should both be: "Page is visible/shown to everyone").
Make sure the video being streamed is set to "public".
Double-check the settings of your app that you created using the above documentation.
Video Unavailable Error
This is usually due to one of two things:
Copyrighted content being used in the stream.
Most of the time we see this happen due to music being used – were you using any type of music or background track during the stream? If Facebook thinks that your livestream contains music, video, or some other copyrighted element, Facebook will automatically block the video from being embedded. You could mute any copyrighted music for the live stream, but the best thing going forward would be to not utilize any copyrighted material.
Your page or stream is not set to allow to be embedded (see the basic checklist above)